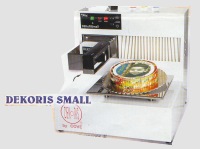 Model DEKORIS SMALL:
As the name suggests, the DEKORIS SMALL is for limited work-areas. Its compact design peforms the same functions, with the same efficiency, as the big model. It can be connected to any PC by a parallel cable. Overall dimensions: 68 x62 x 62 cm. Net weight: 80 Kg.
Printing technology: food colouring jet printer, which works with modified cartridges in trichromatism (red, blue, yellow,white in absence of color, black from the mixture of three base colours). Maximum printing size: about 21 x 29 cm approx.
Maximum resolution: 300 DPI. Printing speed: from 4 to 7 minutes for the biggest size.